The look, feel and comfort of the living room plays an important role in the overall décor of your house as it is the place where we welcome our guests, spend some memorable moments with our loved ones and relax after a tiring day. The best way to change the look and comfort of your living room is by adding a comfortable and elegant looking sofa set to it. The elegance and luxury are further enhanced by opting for leather sofa sets.
Leather sofas have become the most sort after piece of furniture in modern households due to the timeless sense of style attached to it. Classic leather sofas sets serve as both luxury and utility items. Adding a leather sofa to your living room is the easiest way to create a high-end luxurious style to your living room.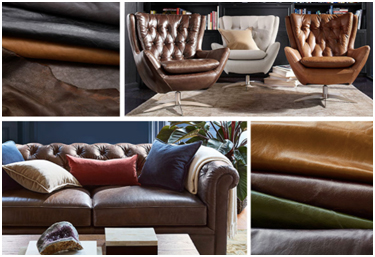 Types of leather sofa set designs
There is a wide range of style available in leather sofa set design will help to make your living area, more prominent, stylish appealing and comfortable for you and your loved ones. The main classification of top leather sofa set designs include -
Designer Leather Sofa:
The latest trend in the market is to go for a designer leather sofa. Leather furniture with latest designs is becoming very popular in modern living rooms as they are sophisticated, expensive and fabulous. They are available in a wide range of colors and styles.
L Shaped Leather Sofa:
L shaped sofas are inviting and warm and are available in a large range of options in terms of layouts. This type of sectional sofas are the versatile ones and allows an option to customize the scheme to a right or left aligned arrangement as per your liking and need.
Simple Leather Sofa:
Simple leather sofas are both simple and functional. They are available in a wide range of colors and designs. The best thing about them is that they provide fabulous back support to its customers.
7 Classy Leather Sofa Set Designs From Rainforest Italy
At Rainforest Italy, we have a vast collection of sofas that suits the decor and blend in with the color scheme of your furniture design for a small living room. Our most famous designs include -
1. Leather Corner Sofa:
Leather corner sofa makes sitting a more comforting experience than ever before. A modular leather corner sofa is an incredible furniture piece that offers effective space optimization and luxury at the same time.
2. Leather Sectional Sofa:
A leather sectional sofa is perfect for enjoying the best moments of our life in the most comfortable way due to their extremely cozy structure. It has a pleasant composure and is available in many designs.
3. L Shape Leather Sofa:
Traditionally a sort of sectional sofa itself, the L shape leather sofa has made its prominent position in the market. It is liked due to its utility, comfort, and style.
4. Tan Leather Sofa:
The famous tan leather sofa is popular amongst the customers who like their sofas to be both classy as well as durable.
5. Suede leather Sofa:
A suede leather sofa called 'sweet leather sofa' is made up of suede leather which is both rare and expensive. It's generally water-resistant and robust.
6. Italian- Leather Sofa:
These sofas reflect the design and absolute comfort at its core. Additionally, it combines elegance and makes it a timeless style for years to come.
7. Loft-Leather Sofa:
Loft Leather sofas display a comfortable linear design with an external tubular stainless steel frame. Additionally, the back and seat are tufted and buttoned to further enhance the richness of the piece.
Why choose Rainforest Italy for a leather sofa set?
Leather sofas are the most preferred piece of furniture due to its durability, elegance and comfortable style. If you are looking for the best leather sofa brands, check Rainforest Italy as we feature the best quality leather sofa set online. Our range includes a wide selection of sizes, colors, and styles. The best part is our sofas are easy to maintain, easy to clean, and are very durable. Our leather sofa designs offer the following styles: classic, traditional, retro, contemporary, and vintage. Visit our online portal to check out our expertly crafted leather sofas and choose one that suits your style and requirement.
Conclusion
It is known to all that leather furniture has a luxury and hierarchy attached to it. The most sort of leather furniture that is suitable for today's modern homes is a leather sofa set. If you wish to buy a leather sofa set for your home, then shop online at Rainforest Italy. We offer a large collection of leather sofa sets online with customizable options.