Dining Chairs have become an indispensable part of any urban home as they quietly witness all important occasions of the family and friends. From traditional wooden dining chairs, they have come along way to dining chairs online. They come in a variety of styles to suit every mood and occasion.
Why Dining Chair Is Important For Home?
Due to a wide range of uses of our dining chairs like study chairs, extra sitting for guests, workstations, settee, we are bound to spend a lot of time on our dining chairs. Dining chairs need to be both comfortable and rigid at the same time. Several factors make dining chairs important for us.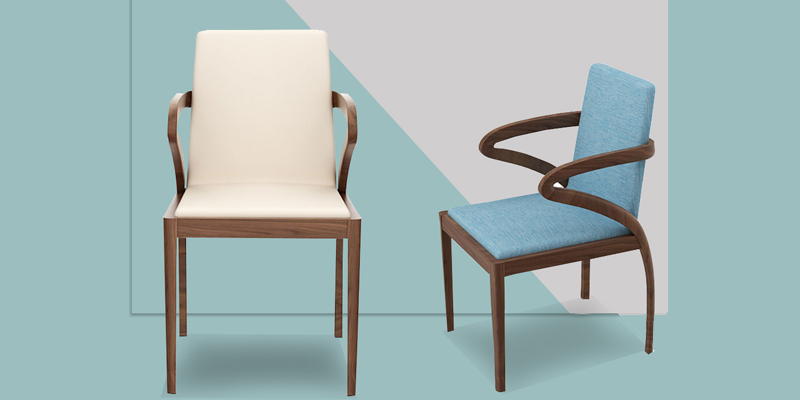 1. Personality
The furniture is a reflection of the personality of its owner. Bold colors used in dining chairs reflect that you are strong and adventurous. The perfect dining chairs are a way to gain pleasure and give a changed dimension to the dining area.
2. Comfort
We all are well aware of the fact that we spend a large amount of our time in dining chairs. Irrespective of their looks, the dining chairs need to be comfortable as well.
3. Hard Working
Among all the furniture in our homes, dining chairs work the toughest. They are put to a wide range of uses like kids' dinner seating, adult dinner seating, homework seating, banquet seating, seating for coffee chats, breakfast, lunch, etc.
Dining Chairs For Every Budget At Rainforest Italy
Modern dining chair designs
Modern dining chairs with their sleek and sophisticated designs are becoming extremely popular in urban households. They are attractive, comfortable and practical at the same time, making them the first choice for small apartments in modern cities.
Traditional dining chair designs
Traditional dining chairs have their charm and suit every traditional dining room in terms of their look and feel. They have a classic design and convenience of modern furniture at an affordable price.
Dining Chairs With Arms
Dining Chairs with arms has become a popular option with buyers as they can double up as workstations. They also help to sit in a correct posture for long times.
Dining Chairs With Cushion
Dining chairs with cushions are preferred due to their comfort and style. They fill up any space with elegance and style.
Upholstered Dining Chairs
Upholstered Dining chairs are a perfect way to customize any area and blend with the décor of the house most easily.
Wing Back Dining Chairs
There is no match to the elegance and luxury of a tall wing-back dining chair to add perfect grace to any dining area. Due to its tapered lines and imposing height, it's a good addition to any room.
The Best Dining Chairs You Can Buy With Rainforest Italy
1. Wooden Dining Chairs
Most traditional dining room sets have wooden dining chairs. Wooden dining chairs suit modern, casual, or country dining rooms.
2. Wood Dining Chairs With Upholstered Seats
Wood dining chairs with upholstered seats are intensifying from the essential comfort level of wood chairs. These chairs also bring color and texture into a dining space that might be lacking with all wood dining furniture chairs.
3. Upholstered Armchair Dining Chairs
Upholstered armchairs are ideal if you're keen on having long, lingering meals with friends or family. They can give plenty of design impact in your dining room.
4. Armless Upholstered Dining Chairs
Plain, cushioned, and freed from any cumbersome arms, armless upholstered dining chair style are a popular modern dining room chair. It is slender enough to suit most tables in most dining rooms as it doesn't take up a large amount of space.
5. Modern Dining Chairs
Modern dining chairs can be fabricated from wood, plastic or metal. Generally featuring shorter backs, these varieties of dining chairs have an occasional profile and a fluid form.
6. Cantilevered Dining Chairs
Introduced within the 1920s, the cantilevered dining chair is delayed by one tubular leg that's bent into an L-shape and attached to one side of the chair's seat. It is made of plain wood, metal, or plastic, or it may be upholstered.
7. Slipcovered Dining Chairs
If you wish the concept of having the ability to frequently switch out the color and elegance of your dining chairs, slipcovered dining chairs may well be your best option. Slipcovered dining chairs tend to have feminine, romantic look irrespective of what fabric or fabric styling is employed.
Conclusion
We at Rainforest Italy offer a range of dining room chair styles that run the gamut from vintage to ultra-modern. Having an understanding of the design and luxury levels of these types will facilitate your choice of the most effective chair for your dining room. To understand what's right for you, simply assess your room's design style and its size then be clear about what your goal is together with your dining space.