Buying furniture for your home is exciting as well as fun if it has done with some planning, research, and forethought. Follow these furniture buying tips which serve as a complete furniture buying guide for stress-free shopping.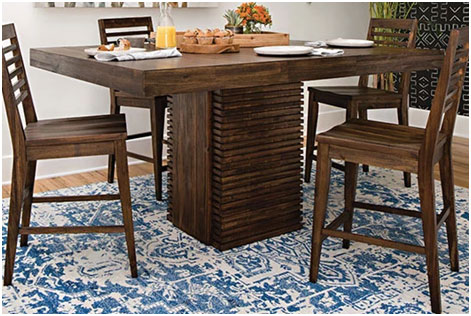 1. Set a Budget
Setting a budget will help you to narrow down your choices within your range. Buying large furniture pieces are the most expensive part of designing your home décor.
2. Separate Wants from Needs
It is always advisable to create a "wants" list which is going to be pretty long and then narrow it down to the "needs" list according to your requirement.
3. Assess your Lifestyle
The type of lifestyle you have will affect the style, design, and colors of your furniture as the way you utilize your furniture is an important consideration in choosing your furniture.
4. Evaluate your Space
It is important to ensure your new furniture fits your space, needs, and personality. So, carefully measure your space before making a final decision.
5. Educate Yourself About Quality
It is important to educate oneself on quality standards before finalizing on a piece of furniture. This data can be collected from books, internet sites, and organizations that provide advice on furniture construction.
Types Of Furniture In The Market Available
Here is a list of all types of furniture available in the market -
1. Living Room Furniture
The living room gives the first impression of your personality. The most important furniture pieces for the living room are -
❖ Sofas
❖ Sleeper Sofas
❖ Accent Chairs
❖ Loveseats
❖ Chaises
❖ Settee
❖ Recliners
❖ Swivels & Gliders
❖ Chair Ottomans
2. Dining Room Furniture
The dining room is the place to host your big celebrations. To live all of these moments to its full, choose the right dining room furniture:
❖ Dining tables
❖ Arm Chairs
❖ Side Chairs
❖ Bar and counter stools
❖ Sideboards
❖ Console tables
3. Bedroom Furniture
The bedroom gives the option of more design creativity than any other room. The key pieces in the bedroom include:
❖ Beds
❖ Headboards
❖ Nightstands
❖ Dressers
❖ Chests and armoires
❖ Mirrors
❖ Mattresses
❖ Benches
Things to Do Before Buying Furniture Online
Every piece of furniture has certain features that determine whether it is a good fit or not. Before buying furniture, you should know how to find the best match for your needs. Here is a list of things which help to act as a wood furniture buying guide -
Know your store
Keep your eyes open for industry certifications, and do not hesitate to verify with an authorized agency if you've got your doubts. You can choose from stunning showrooms or well-designed websites for best furniture buying ideas.
Get prepared
There is a high level of planning required before making a final decision. The criteria on which we have to keep in mind include the correct measurement of your space, determining a budget, and determining your style.
Narrow your results
As there are lots of options on the market, leading to an overwhelming variety available in the market. It is advisable to do some homework and chop down your options based on your parameters.
Plan and visualize
Once you have a clear idea of what you want to buy, it is advised to mock it up. This is a quick and effective way to plan how the piece will fit in your space.
Don't rush
Invest a lot of time, and discuss with a product specialist to confirm you get the best product in the market at the best price.
How to Get The Best Price When Buying Furniture
Getting Competitive Bids
The best way to get the best price is to compare prices among independent stores. The subsequent steps:
1. Get the make, model/style number, and fabric grade or number (for upholstery) from a store that displays the item.
2. Talk to the manufacturer that it still produces the model/style you wish. If so, get a listing of outlets selling its products within 50 or 100 miles of your home. This can be found on manufacturers' websites.
3. Call each retailer to invite them to quote you a price—including delivery.
Making Subjective Judgments
It is needed to create subjective judgments about prices quoted by stores based on the standard of its products. This can be done based on customer survey ratings for prices.
Conclusion
Online shopping is the latest trend in furniture shopping. While the showroom experience appeals to many, the web provides the best options, brands, and designs. Online shopping helps to save time and get correct details before making the final decision. With the correct preparation and support from the right site, you may find your new favorite furniture piece on the worldwide web.