Cool Furniture You Wish You Had The Courage To Bring Home
The best way to establish a new look in your house is unquestionable with the help of the furnishings. New pieces change the style of your space as well as the usefulness. Little changes can roll out a major improvement when it's an ideal opportunity to include or swap out some furnishings, so it's a smart thought to watch out for the most recent trends in furniture pieces since they constantly offer intriguing new highlights. The latest trend in today's furniture industry is to opt for cool furniture options.
Types of furniture at Rainforest Italy

At Rainforest Italy, we believe in incorporating the latest trends in the market in our pieces. Few Examples of Cool Furniture ideas at Rainforest Italy are –
1. Bookcase and Levitating Sofas
This designer sofa allows you to grab your favorite book at your fingertips. With an integrated bookshelf, grab your favorite book in one single move.
2. Radiator and Chair Combined
This chair has its back attached to a source of heat, giving it multiple utilization as a chair and a radiator at the same time. This Zig Zag chair delivers warmth and comfort at the same time.
3. Table and Wine Display
Inspired by the oak barrels, this table blends tradition with contemporary and gives a provision to elegantly displaying 16 wine bottles in the table.
4. Stool, Side Table and Magazine Rack
This stool, table and magazine rack has been specially developed for small interiors. It is a perfect example of multi-functionality and space-saving. There is a provision to change its height according to the number of magazines placed.
Different types of furniture available at Rainforest Italy are:-
Living Room Furniture
The living room gives the first impression of your personality. The most important furniture pieces for the living room are -
Sofas
Sleeper Sofas
Accent Chairs
Loveseats
Chaises
Settee
Recliners
Swivels & Gliders
Chair Ottomans
Dining Room Furniture
The dining room is the place to host your big celebrations. To live all of these moments to its full, choose the right dining room furniture:
Dining tables
Arm Chairs
Side Chairs
Bar and counter stools
Sideboards
Console tables
Bedroom Furniture
The bedroom gives the option of more design creativity than any other room. The key pieces in the bedroom include:
Beds
Headboards
Nightstands
Dressers
Chests and armoires
Mirrors
Mattresses
Benches
How to choose cool furniture for your home?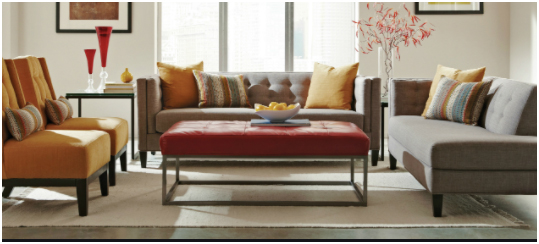 Start With the Vibration
Before selecting a piece of furniture for your home, initial raise yourself however you would like those areas to feel. The emotions which we have for each room helps in deciding hues, surfaces, and shapes.
Workaround A Focal Object
Try to not stress over everything being nice. Rather, focus on discovering items that you just very love. Assemble your area around that best-adored piece.
Play With Colour
The arrangement of hues utilized in one area can facilitate getting the temperament of your area utterly. Matching neutrals creates a sensible mood, mid-century vibration. Bright heat hues like yellow, red and orange create a cheerful ambiance, whereas cool hues like blue add a sense of serenity to any area.
Quest for Statement Materials
Looking out special texture surfaces includes next-level profundity that's tough to try to do with shading alone. An area decked out in a shiny sleek calf piece of furniture can feel an excellent deal similar to a red room loaded with extravagant upholstery.
Benefits of buying complete furniture from Rainforest Italy
1. Easy Accessibility
Buying online furniture at Rainforest Italy offers you comfort as you do not get to visit a physical store. It's sometimes tough to see things on-line.
2. Monumental And Various Inventory
A large portion of an article of furniture stores has strained alternatives whereas online furniture buying with us permits you to get varied things that you just may be unable to get at the physical stores. They furnish a large assortment of results of assorted brands and you get a horde of alternatives.
3. Higher Worth Choices
Buying furniture online at Rainforest Italy gives the advantage of saving both your money and time. Online furniture stores supply limits on their things with coupons in time of events.
4. Home Delivery
We provide free transportation of furniture that helps to bring down the overall cozy of the item.
Conclusion
The type of furniture you place in your home significantly affects the look and the solace of your home. Regardless of whether you incline towards conventional wooden furnishings or creator furniture, it ought to be as per your inclinations, accessible space and the décor of your home. In this way, while you are investigating the different furniture stores to locate the best furniture, search for the most recent trends in your chosen furniture sets at rainforestitaly.com.