We cannot deny the importance of furniture in our life. It fills the house to reinforce its beauty and completes the décor. Furniture also makes our life easy and comfortable. During this era of apartment and society living where every house is identical from exterior and interior, furniture is that the only mode to indicate the various personality of the various family residing there. From handcrafted to molded, from wood to plastic, from fabric to leather… there are various varieties of furniture that we've got in our home. Each furniture needs special attention to the last longer, maintaining its charm and shine throughout its life.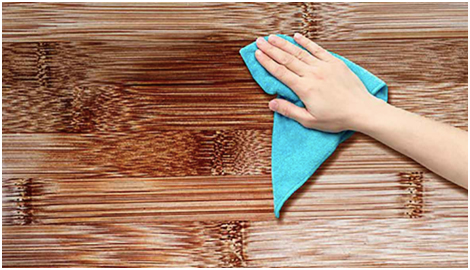 Things to take care of Wooden furniture.
Quality wood furniture can last a lifetime and is commonly a treasured heirloom, passed down through multiple generations. Still, even the very best quality wood is prone to scratches and abrasions if not properly cared for. Here are tips for cleaning wooden furniture -
1. Don't Mistreat Furniture
To avoid rings and warmth damage, always use coasters when setting glasses or mugs on wood tables, and never place hot food directly on them without the protection of a trivet or potholder. Incorporate decorative placemats or a tablecloth to shield your dining room table from food and drink spills.
2. Avoid Environmental Damage
Sunlight, heat and other environmental factors can wreak havoc on your fine wood. Don't place valuable furniture ahead of uncovered windows, vents or fireplaces, because the light and warmth can damage and fade the wood.
3. Dust Often
Dusting is one in all the most effective ways to require care of your furniture. Airborne particles can build a filmy layer on wood that scratches the surface. Frequent dusting keeps this buildup from happening.
4. Keep Your Wood Clean
Sometimes dusting isn't enough, if you have got a spot that's heavily soiled or sticky, dip a cloth in water that contains a light dish detergent. Take care to follow up with a rinse from a moist cloth containing just water, then immediately wipe with a soft dry cloth.
5. Protect Your Wood
Most commercial polishes and sprays contain either petroleum distillates or silicone oil to provide a fresh and glossy finish and are recommended for wooden furniture cleaning.
6. Treat Wear and Tear
Even with the most effective care, wood furniture can sustain injuries. For minor nicks and scratches use a product like English Scratch Cover. This liquid polish hides abrasions, restoring the wood's inherent beauty. Painting a bit of damaged furniture will breathe new life and is the best way to clean old wood furniture
7. Re-Oil and Re-wax as required
If furniture has been stored and becomes overly dry, you will have to re-oil it. Depending on the finish, some furniture may have a wax protective coating. As these pieces age, it's going to be necessary to re-wax the surface for continued protection.
What Are Tips & Tricks To Keep Your Wooden Furniture Clean?
When you purchase wooden furniture, you're handed sole responsibility for that piece of furniture. Here are some wood furniture cleaning secrets –
Begin with the fundamentals
Bi-weekly, if not day-to-day dusting, wiping and vacuuming is crucial to assist the furniture to maintain its shine.
Go beyond the surface
While regular vacuuming and dusting are important, it's important to not forget periodic deep cleaning. Deep cleaning ensures that the wood lasts longer, and prevents damage to the furniture by many folds.
Eradicate stubborn marks
Many stains are difficult and no amount of scrubbing erases them. Bicarbonate plays a significant role in removing tough stains including ink stains.
Fight those water stains
Using non-gel based toothpaste on the spot, in the course of gentle rubbing of a cloth erases these stains.
How Regular Cleaning Will Benefits The Wooden Furniture?
Regular Cleaning is a must for the long life of any furniture. Here are some great benefits.
1. Better Air Quality

Due to its nature, furniture naturally collects allergens throughout the course of its lifetime. The removal of those allergens by regular dusting results in better air quality in your home and a healthier life for you and your family.
2. Longer Furniture Life

By utilizing knowledgeable furniture cleaning methods, you'll be able to extend the lifetime of your furniture and save yourself money within the long run!
3. Better Aesthetic Appearance

Regular cleaning will leave your furniture looking renewed. It results in healthier looking furniture and a higher looking home!
Conclusion
Wooden furniture adds to the eloquence and ambiance of a house. Wooden furniture is an investment on its own, because of its price and value. It's crucial to require extra care of the wood. It's no secret: the higher you take care of your belongings, the longer they last. While wooden furniture lasts a protracted run, it's essential to take care of it right so as to stay it looking as radiant as ever.